Southern Music-A Carnatic story: book release by T M Krishna
19 December, 2013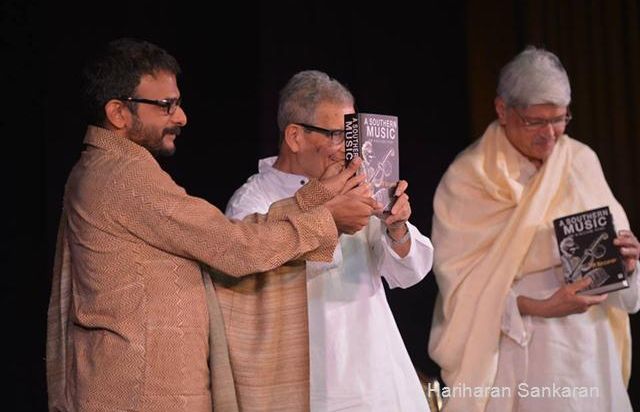 - Sukanya Kumar
The release of 'Southern Music-A Carnatic story' was much awaited. The talk of the season was filled with inquisitive members of society discussing what's in store in the book "that none of us would read impassively" in the fine opening words of Priyadarsini Govind, Director, Kalakshetra foundation.
Melodious and moving music by R K Shriramkumar on violin and Arun Prakash on Mridangam -T M Krishna's friends and colleagues marked the commencement of the event. This was followed by a dance rendition of a javali 'smarasundaranguni' by Bragha Bessell. Prof. Amartya Sen, the only recipient of both the Nobel price and the Bharat Ratna was the chief guest who graced the evening.
Gopalkrishna Gandhi, the Chairman of Kalakshtra foundation introduced the dignitaries using adroit adjectives. "T M Krishna is an artist who has knowledge about, above, beyond and beneath his field and is a strident critic", described Gandhi. "He sings with a fine frenzy of a cyclone in the making", he commented.
Following Gandhi's interesting introduction, Karthika V K, Editor in chief, Harper Collins said, "This is the day when I can say, I know why I publish books." She shared the experience of being an editor who gets opportunities to delve and dwell in unexplored worlds. "Ask questions, argue-which Krishna does really well, learn and give back is the best part of being who I am and doing what I do", she added.
Then T M Krishna took over the dais, and just like he is wont to with his music, reached out to every member of the august gathering. "Fear is not a word I associate myself with but today it has totally engulfed me" began Krishna, much to the surprise of the audience. He remembered his father, eldest brother and his grandmother for very personal and precise reasons. After thanking every person who has supported him in this endeavor, he described how his thoughts turned into a book. "It was a chance that came my way exactly when I was planning to collect and organize my thoughts and opinions. A chance that I grabbed" expressed Krishna. He described the process of putting down one's thoughts, a process that makes you a third person as "the thought does not belong to you anymore", he said.
T M Krishna, as he puts it, has a view to the world through the window of music. He has beautifully and intellectually penned this book. The enchanting excerpts that he read presented a perfect preview of the work.
The excerpts taken from different portions of the book formed a beautiful thread just like the book itself, where "the thread created itself" describes Krishna. Beginning from the Tambura, it touched subjects of the Devadasi tradition, Caste and music, the future of music to name a few.
"Carnatic music does not wear the sacred thread" he commented. Krishna concluded with what he has learnt from writing this book and his appeal in the final chapters to its readers.
Prof. Amartya Sen praised, "This is one of the best books I have ever read. Congratulations would be insufficient to convey my sense of wonder" He said that this was a "fabulously complete, educative, intellectual, informative, clear yet informal and unexpected!"
T M Krishna and Amartya Sen answered questions with bold statements. "Can merit alone make it?" was answered by Krishna with the painful fact that the society of which music is also a part of does not encourage merit alone in any field.
For Krishna's effort to take the journey towards "never losing the sense of correctness no matter what your neighbor does", or in the words of Priyadarsini Govind "…Quest for freedom to question, respect, to engage in honest dialogue, to navigate uncharted waters…" this book is a milestone.
As Gopalkrishna Gandhi summed it up, it was "An evening with every ingredient of a rapturous concert". As a fitting finale, Kalakshetra music students presented 'Nenjukku needi', a Bharathiyaar song that echoed the emotions of the evening's discussions.
T M Krishna wraps up his book with an honest declaration "I know only one thing, my next question"… The audience left for home trying to guess: 'what might that question be?!'
For more photos : http://www.sabhash.com/music/events/7212/southern-music.html

About
Sabhash
- Everything about classical music, dance, drama and a platform for inclusive entertainment
Sabhash.com is the one-stop destination for the latest news and information on the performing arts of India - classical music and dance, theatre, bhajans, discourses, folk performances, and other lesser known art forms. Institutions that revolve around the performing arts have exploded in numbers, and thanks to the Internet which has made information easily accessible, the number of rasikas has grown too. Corporate patronage has played a big part in increasing the world-wide reach of the Indian arts. Sabhash wishes to be a platform for inclusive growth giving an equal opportunity and recognition to not only the main performer but also the artistes who accompany them on stage, and the people who work backstage and play the role of unsung heroes.