A Classical December
19 December, 2013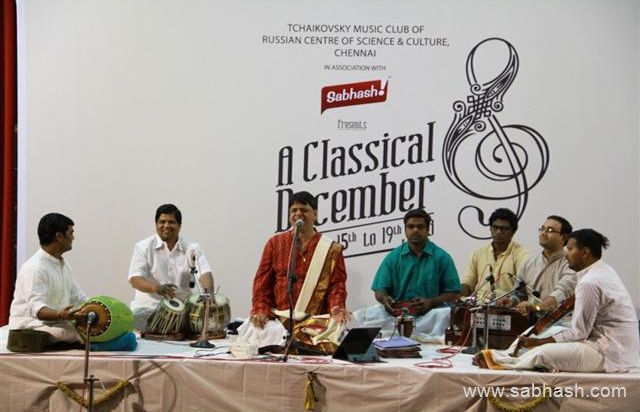 - by V S Badri Narayanan (Badri)
Mail : badrinarayanan.vs@gmail.com
Blog : http://badrirag.wordpress.com/2013/12/19/sabash-team-subramaniam/
Sabash Team Subramaniam!!
A truly Indian concert by vocalist OS Arun under the auspices of Sabhash.com!
Those who were present at the performance would agree with me that the sheer number of languages he covered during this musical journey would be more than adequate for this tag.
But then why have I mentioned "Team Subramaniam" in the title of the post? Please read on to find the reason. Actually, this was a cue from Arun's final announcement of the day. Now let's dive into the concert.
He was supported on the violin & mridangam, harmonium & table and timing and did full justice to this large varied team. Started with an invocation to Lord Ganesa 'prabho ganapthy' in Thilang in Tamizh and from second one, he was in his elements by adopting a brisk pace.
He flew north to capture the mood of Surdas doha in a dialect called 'vrajabasha' or 'the way cowherds would speak'.
Arun's sense of humour was evident when he announced that the next language would be Telugu and that he has arrived in Andhra Pradesh and added 'full AP' in the context of the likely bifurcation. He took up a Bhadrachalam Ramdas composition 'Garuda Gamana' in Mayamalavagoula and rendered it in a folk style.
As it was Margazhi Thiruvadhirai and hence Arudra Darshan, Arun sang a very famous padham "Theruvil Vaarano" of Muthu Thandavar in the ragam Khamas. I had heard this for the first time at Sikkil Gurucharan's concert just 3 days earlier and here I was hearing it for the second time in quick succession. (Snippet: When I looked up the lyrics, I saw that the padham was originally composed in the ragam Saurashtram) Arun sang this padham as if he was in a dance concert and showed myriad variations at every line of the padham. I was reminded of Kamal's facial expressions in Viswaroopam 1 for the song 'unnai kaanadhu naan' when I heard and watched Arun especially during this piece. Arun is known for his bhavam and he used an abrupt break at the end of the phrase "vaasal mun nillano" to bring the effect of the lyrics.
It was the turn of Karnataka and who else but Purandara Dasa? Arun chose 'ninene paaduva' in Mohanam.
In a sharp turn towards east India, he sang a Meera Bhajan in Mishra Maand but in Bengali folk style. Inexplicably, the song that SD Burman renders in the movie "Abhimaan" rang a bell. SDB perhaps brought his Bengali roots to music in that movie. Arun has that innate ability to keep his enormous talent under control that when he sings hindustani, there is no trace of carnatic and vice versa.
Next was a shatabdi-style Ragamalika in Malayalam to represent Kerala consisting of Pantuvarali, Saranga, Sri Ranjini and Amrutavarshini. In fact, there was hardly any gap between the various charanams.
It was the turn of Maharashtra and Abhang in Yaman. Purists may find my references to film songs irritating but they may have to bear with me once again as I could hear strains of 'mudhan mudalil parthen' from the movie 'aaha'. Arun then turned on the magic by doing shrutibedham twice at this stage delivering Mohanam and Madhyamavathi and it was amazing!!
He then gave a brief introduction to Jayadev who had composed in Sanskrit and delivered one of his compositions in the ragam 'Brindavana Saranga'.
This was followed by a Surdas bhajan in Bhairav That (equivalent of Purvi Kalyani).
In deference to the audience wishes, he sang 'aasai mugam marandhu poche' in Jonpuri and concluded the concert with mangalam.
oh I almost forgot about the secret of Team Subramaniam. Arun was accompanied on the violin by Karaikal Venkatasubramanian, on the mridgangam by Venkatasubramanian, on the tabla by Ganapathy Subramaniam, Harmonium by Chandrasekar Subramaniam. since all of them had 'Subramaniam in their name and he is also (Arun) Subramaniam, he himself declared that this was 'Team Subramaniam'.
For 2 hours we were transported by a special aircraft to the different states and also by a time machine to the ages when the composers lived. It was an enchanting experience.

About
Sabhash
- Everything about classical music, dance, drama and a platform for inclusive entertainment
Sabhash.com is the one-stop destination for the latest news and information on the performing arts of India - classical music and dance, theatre, bhajans, discourses, folk performances, and other lesser known art forms. Institutions that revolve around the performing arts have exploded in numbers, and thanks to the Internet which has made information easily accessible, the number of rasikas has grown too. Corporate patronage has played a big part in increasing the world-wide reach of the Indian arts. Sabhash wishes to be a platform for inclusive growth giving an equal opportunity and recognition to not only the main performer but also the artistes who accompany them on stage, and the people who work backstage and play the role of unsung heroes.