Soaring high
21 December, 2013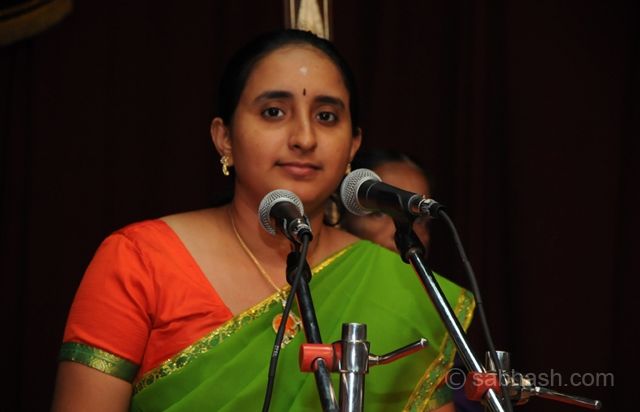 - Janaki lakshman
Naada Inbam: Aishwarya Shankar-Tejaswi mallela-R Ramkumar.
Aishwarya Shankar is blessed with a pliable voice that easily traverses the higher octaves, sound professional training from a stalwart like Smt Suguna Varadachari, and the Vidwat required for a career in classical music. Good Sruthi alignment and command over Layam are her plus points.Her recital for Naada Inbam at Raga Sudha hall bore testimony to the fact that she has a bright future in the field. She was accompanied by Tejaswi Mallela and R Ramkumar on the Violin and Mridangam.
Starting the concert with the Kambhoji Ata Thala Varnam by Swathi Thirunal, Aishwarya rendered a sober Intha Paraaka in Mayamalava Gowla by Anaiyya adorning it with some impressive Swara prastharas. Her detailed Shanmukhapriya Aalaap was noted for the impressive Sancharas in the higher realms of the scale. Mari vere Dikkevaraiyya Rama was the Krithi and it was rendered in detail doing justice to all the Sangathis. The Neraval and Swarams at Nannu Brovakayuntuda Nyayama had all the necessary ingredients.
Oorage Kalguna in Sahana was reposeful, and a vigorous Malmaruga Shanmukha in Vasantha set the mood for the main Krithi for the day,Sri Dakshinamurthe in Sankarabharanam. Her Aalaap was elaborate, dwelling long enough at the lower scales of the Raga this time , bringing out its majestic grandeur.However there were a few repetetive Sancharas and phrases .The Neraval and Swarams at Sukhathara Pravruthe showed her good command over layam. She did not forget to mention that it was her Guru Smt Suguna's birthday and she dedicated this particular composition to her.She ended the recital with a melodious Raga malika Govinda Hare Govinda.
Ramkumar did a good job in lending support and his Thani for Misra Jhampa Thalam had all the necessary features. Tejaswi's accompaniment was restrained and non intrusive.This disciple(from Hyderabad) of veteran Violinist Kumari Kanyakumari has a bright future. He could be more bold and assertive in his playing.
Higher notes alone do not constitute music. There are ample possibilities in the lower realm of a scale and more Sadhakam there helps one's voice to sound more full bodied and robust. Vishranthi and Sowkhyam in music could be easily attained this way. With further guidance from her eminent Guru and more experience she is sure to bloom into a successful musician soon.

About
Sabhash
- Everything about classical music, dance, drama and a platform for inclusive entertainment
Sabhash.com is the one-stop destination for the latest news and information on the performing arts of India - classical music and dance, theatre, bhajans, discourses, folk performances, and other lesser known art forms. Institutions that revolve around the performing arts have exploded in numbers, and thanks to the Internet which has made information easily accessible, the number of rasikas has grown too. Corporate patronage has played a big part in increasing the world-wide reach of the Indian arts. Sabhash wishes to be a platform for inclusive growth giving an equal opportunity and recognition to not only the main performer but also the artistes who accompany them on stage, and the people who work backstage and play the role of unsung heroes.