Sushma Somasekaran deserves to be promoted
24 December, 2013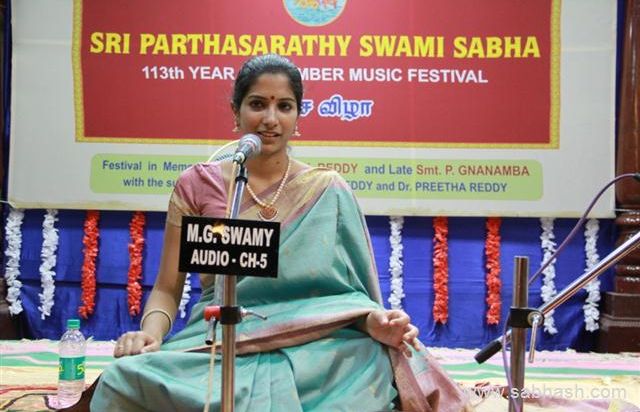 Parthasarathi Swami Sabha had featured Sushma Somasekaran in the afternoon slot (12.30 p.m.). After listening to her one got the honest feeling that she richly deserved to be "up-graded". Her alapana for Mohanam showed certainty and comfort in its handling. It was never imitative of any of the schools and carried its conviction by being presented with an original flavor. The ease with which she "went up" was stunning for its no-fuss/no-strain approach. The final korvai and the one prior to this were fashioned after the mridangam tradition, where the three kalams would get incorporated in its entirety, one following the other, in seamless succession. The song was Mohana Rama (Thyagarajar) that was rendered with an orderly arrangement of sangathis.
The curtains would come down soon. Sensing this Sushma opted for a number that would be remembered for its punch-line, from no less a poet than Bharathi. Who can ever forget the impact the "Thagath Thaga" song, would make on minds - both young and old? This song and its powerful lines have been used by many dancers who have included this to depict the immense power of Shakthi. Sushma was able to communicate the fervor associated with this composition by indulging herself in some involved, faithful singing.
One issue still remains for her. Sruthi alignment was not as perfect as it ought to have been especially during her thara sthayi traversals. This, in spite of the fact that she has a powerful yet sweet voice. Fortunately she was "heard" (nobly well heard) when she sounded notes on the mandara sthayi.
She was accompanied by Adithi Krishnaprakash on the violin who during her alapana of Mohanam built her many phrases around "Sa Dha paryogams" that sounded pleasing for its consistency in its orientation.
Akshay AnanthaPadmanabhan on the mridangam gave a thani that had to necessarily be of a short duration (how else could it be for a one-and-a-half hour concert) but judiciously gave a mixed bag that contained all elements and tempos, all of them perfectly placed.
What was on stage was a combination of youth, which performed truly ahead of one's expectations. And that…that augurs well for carnatic music (read art).
The concert was held at Bhimasena Garden on 21.12.2013 under aegis of Sri Parthasarathi Swami Sabha.
aarvalan (aarvalan@yahoo.com)
For more photos : http://www.sabhash.com/music/events/7213/sushma-somasekaran-deserves-to-be-promoted.html

About
Sabhash
- Everything about classical music, dance, drama and a platform for inclusive entertainment
Sabhash.com is the one-stop destination for the latest news and information on the performing arts of India - classical music and dance, theatre, bhajans, discourses, folk performances, and other lesser known art forms. Institutions that revolve around the performing arts have exploded in numbers, and thanks to the Internet which has made information easily accessible, the number of rasikas has grown too. Corporate patronage has played a big part in increasing the world-wide reach of the Indian arts. Sabhash wishes to be a platform for inclusive growth giving an equal opportunity and recognition to not only the main performer but also the artistes who accompany them on stage, and the people who work backstage and play the role of unsung heroes.