Amritha Murali's Concert - An elevating experience
24 December, 2013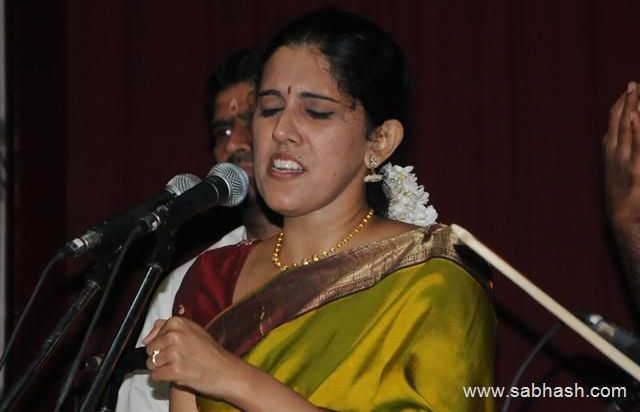 - Janaki Lakshman

Amritha Murali is a very promising star in the firmament of Carnatic music, and definitely one artist to be followed keenly.She has been making steady progress in the past decade as a violinist and as a vocalist too. Her
Concert for Charsur arts foundation once again proved this point. R K Sriramkumar on the Violin, K. Arunprakash on the Mridangam and Anirudh Athreya on the Ganjira were the strong team of accompanists and they contributed heavily towards the success of the recital.
It had an unusual start with a Shlokam and Swara Raga Sudha in Shankarabharanam,taking a direct plunge into a detailed Neraval and Swaram segment. Her clear and malleable voice showed tremendous maturity. The composition was treated with reverence, with the accompanists too just keeping company with delicate strains and subtle strokes,creating a serene atmosphere.
This disciple of T Rugmani and P S Narayanaswami sings with full throated ease without sounding loud. Sadachaleswaram was second in line sung without any prelude and Sriramkumar's playing was absolutely delightful. After a sprightly Kripajoochutaku in Chayatharangini came Varali in all its grandeur. Karuna joodavamma by Shyama Sastri with a lovely Neraval at
Marakathangi Panchanadeshu Rani sung in 3 speeds was a treat,with suitable Swaram elaborations.
Brovabharama in Bahudari with swarams led to an RTP in Kapi. The lovely Aalaapana gave the Ragam the weight it required for an RTP. The violinist's exposition of Kapi was classic,the flavor brought out in one single stroke. A Khanda Thriputa Pallavi Peethambaradhara Priya Nayika mam pathu Radhika (eduppu after 3 aksharams) was rendered with Ragams like Hamir Kalyani,Surati and Swarams in Neelambari and Udaya Ravichandrika. Aadum Chidambaramo and a Yamuna Kalyani Bhajan Dhav Vibhu Karunakara Madhav rounded off the recital. A totally relaxing concert with massive support from the accompaniment,and with absolutely no exuberance.

About
Sabhash
- Everything about classical music, dance, drama and a platform for inclusive entertainment
Sabhash.com is the one-stop destination for the latest news and information on the performing arts of India - classical music and dance, theatre, bhajans, discourses, folk performances, and other lesser known art forms. Institutions that revolve around the performing arts have exploded in numbers, and thanks to the Internet which has made information easily accessible, the number of rasikas has grown too. Corporate patronage has played a big part in increasing the world-wide reach of the Indian arts. Sabhash wishes to be a platform for inclusive growth giving an equal opportunity and recognition to not only the main performer but also the artistes who accompany them on stage, and the people who work backstage and play the role of unsung heroes.