Full Throated melody
26 December, 2013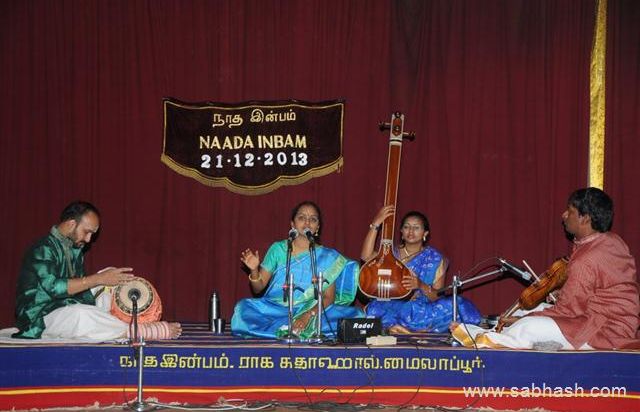 - Janaki Lakshman
Savita Sriram is blessed with a cheerful disposition and a robust voice, and her style is open throated singing! No harm in it actually,but there is a risk of sounding too exuberant sometimes if good control is not exercised.
Starting her concert with Vasantha Varnam she rendered a lively Aalaap of Begada, to present Vallabha Naayakasya Bhaktho a Deekshithar Krithi. The Sahithyam here sounded like Pallava pada Mridu tharaasya.. Dharaasya... etc. throughout this song, changing the word to Aasya which means a face, in stead of the intended Shashti Vibhakthi. Delhi R Sridhar accompanied on the Violin with great dexterity. Burra Sriram's playing was subdued and supportive. Thappagane Vacchu naa in Suddha Bangala livened up the atmosphere with Swarams in fast tempo but going off notes at places. Another Karuna Joodavamma in succession.... after the previous day's Amritha Murali! The Aalaap was excellent in her resonant crystal clear voice,bringing out the Swarakshara beauty in the Krithi. Her Neraval and Swara Prastharams proved that she is evolving into a seasoned concert artist. Her voice interpreted fine Sangathis and Brighas so well that even at the higher octave it was a pleasure listening to her.
A Varamu Krithi Thunai Purindharul was rendered before she embarked on a detailed and lengthy Kambhoji Aaalaapana. She has remarkable Sruthi alignment and the Sancharas at all Sthayis were extremely polished, with poise too! Evari maata was the composition for the day,and she rendered it paying full justice to the mighty Thyagaraja Krithi. It had all the elements in right proportions, with lovely Neraval and Swaram at the most suitable place namely Bhaktha Paraadheenudanuchu! After a crisp and neatly played Thani she sang a Virutham in Desh, (Nanmaiyum Selvamum) to render an exquisite version of Rama Namame Thudhi maname,and a Thillana in Hamsanandi was the final piece for the evening.

About
Sabhash
- Everything about classical music, dance, drama and a platform for inclusive entertainment
Sabhash.com is the one-stop destination for the latest news and information on the performing arts of India - classical music and dance, theatre, bhajans, discourses, folk performances, and other lesser known art forms. Institutions that revolve around the performing arts have exploded in numbers, and thanks to the Internet which has made information easily accessible, the number of rasikas has grown too. Corporate patronage has played a big part in increasing the world-wide reach of the Indian arts. Sabhash wishes to be a platform for inclusive growth giving an equal opportunity and recognition to not only the main performer but also the artistes who accompany them on stage, and the people who work backstage and play the role of unsung heroes.