Samyukta Ranganathan uses her time effectively
26 December, 2013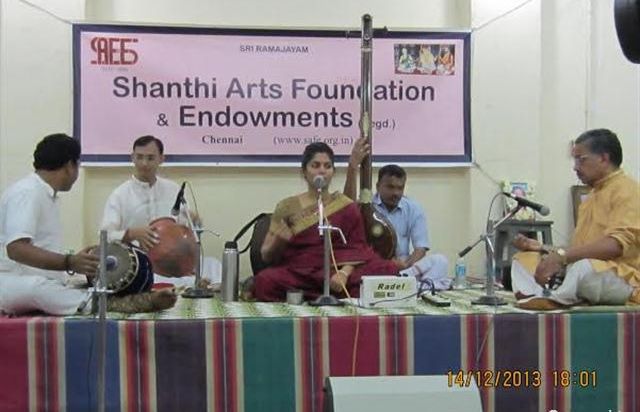 Kumari Samyukta Ranganathan was featured recently under the auspices of SAFE at Sastri Hall. She was accompanied on the violin by Sri V V Srinivasa Rao. Sri Arjun Ganesh (Mridangam) and Sri Trichy Murali (Ghatam) provided laya support.
Samyukta began with the Gana Pancha Ragamalika Varnam of Kalahasti Venkatasamiraju and followed it up with a krithi of Thyagaraja (Manasa Sri Ramachandruni, Isamanohari). What was worthy of mention about this artiste was the fact that she was able to pack as many as ten songs in a matter of two hours that was given to her. The Padam, Tiruvottiyur Thyagarajan (Atana, Ganam Krishnaiyer) and the Javali, Saramaina (Behag, Swathi Thirunal) that appeared towards the end showed her penchant for this genre' of music, which is hard to learn, harder to perform. Sri Thanjavur Sankara Iyer had once made an appeal to all artistes in general, to include a composition in Mayamalavagowla in all their concerts. Accordingly Thulasidala, a krithi of Thyagaraja was rendered right at the beginning. Anandamrita Karshini in Amritavarshini, which has an episodic relevance (Mutthuswami Dikshitar) came at a brisk pace and a not-much-heard krithi Napunyamu in Keeravani came as a revelation at least to this rasika as it was rendered. This is a composition of Harikeshanallur Muthayya Bhagavathar. The other two compositions rendered were Bharatheemaththi (Devamanohari, Dikshithar) and Govardhana Giridhara in Brindavana Saranga that came as the end-piece.
Her main item was the Kalyani krithi of Thyagaraja Kaaruvelpula in which the poet-musician makes a huge list of comparisons to substantiate the greatness of Lord Rama. It had a winsome alapana that had a contained usage of all elements that go to make a raga visthara shine with realistic beauty. The krithi itself was sung to add to the life it already possesses on account of the mundane examples that Thyagaraja employs in this krithi.
aarvalan (aarvalan@yahoo.com)

About
Sabhash
- Everything about classical music, dance, drama and a platform for inclusive entertainment
Sabhash.com is the one-stop destination for the latest news and information on the performing arts of India - classical music and dance, theatre, bhajans, discourses, folk performances, and other lesser known art forms. Institutions that revolve around the performing arts have exploded in numbers, and thanks to the Internet which has made information easily accessible, the number of rasikas has grown too. Corporate patronage has played a big part in increasing the world-wide reach of the Indian arts. Sabhash wishes to be a platform for inclusive growth giving an equal opportunity and recognition to not only the main performer but also the artistes who accompany them on stage, and the people who work backstage and play the role of unsung heroes.