Sparkling repertoire
30 December, 2013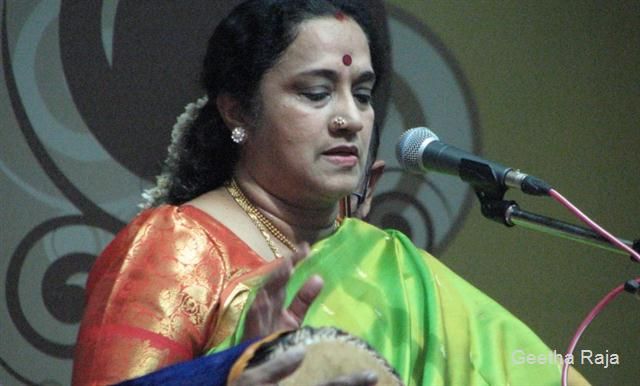 - Janaki Lakshman
Geetha Raja is a musician who is consistent in her performances. A regular in Chennai season platforms her concerts are noted for meticulous planning, neat presentation and precise execution.She obviously does a lot of homework and chooses a good variety of compositions from her wide repertoire.
In her concert at Mylapore Fine Arts Club she impressed the audience with a brilliant variety of Krithis. After a Sri Raga varnam she sang a Thyagaraja Krithi in Prathapavarali, without missing the Raga Chhaya. In this composition Thyagaraja expresses his desire to listen to the sweet words of deep love spoken to Sita by Rama, after He played and won a game of Pallanguzhi with Her. What a lovely thought by the saint composer!
Brova Samayamithe Ramayya in Gowri Manohari was another rarely heard piece composed by Garbhapuri Vasa.
Thodi came next and a very detailed Aalaapana with the lower octaves well explored was followed by Kaddanu Variki with Neraval and Swaram elaborations at Niddura Nirakarinchi. Dr Narmada's responses were brilliant .
RTP came soon after Thodi, with no relief of songs in between. The Aalaapana of Hemavathi was grand and elaborate. The Pallavi Dasarathe Karuna Payonidhe Inakula Thilaka was in Khanda Thriputa Thalam with Eduppu after 6 Aksharams. She did Thrikalam, and went on to render a Ragamalika Swaram with Sahana Ranjani and Madhyamavathi. J Vaidyanathan and Sethuraman presented a well proportioned Thani Avarthanam.
Samiradayaka a Jawali by Dharmapuri Subbarayar found its place in the post Thani section. This sounded like Huseni and Ananda bhairavi and the singer said it is a folk tune. Ela Radayane in Bhairavi another majestic and delightful Jawali came next and her sound training from Brinda in the finer aspects and aesthetics in singing was evident. She has a robust voice that is audible in even lower octaves. Maname Kanamum Maravadhe and a Meera Bhajan in Purya Dhanashri were very well received.
She concluded her recital with a Thillana by Tanjore Ponnaiah Pillai in Mandari and Karpagame in Madhyamavathi.

About
Sabhash
- Everything about classical music, dance, drama and a platform for inclusive entertainment
Sabhash.com is the one-stop destination for the latest news and information on the performing arts of India - classical music and dance, theatre, bhajans, discourses, folk performances, and other lesser known art forms. Institutions that revolve around the performing arts have exploded in numbers, and thanks to the Internet which has made information easily accessible, the number of rasikas has grown too. Corporate patronage has played a big part in increasing the world-wide reach of the Indian arts. Sabhash wishes to be a platform for inclusive growth giving an equal opportunity and recognition to not only the main performer but also the artistes who accompany them on stage, and the people who work backstage and play the role of unsung heroes.