Balamurali, a maestro in the true sense of the word
24 Nov, 2016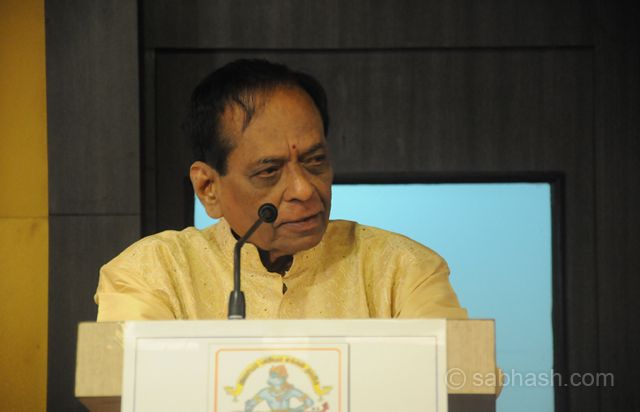 Mangalampalli Balamuralikrishna merged with music eternally on 22.11.2016.
He had started performing at the tender age of seven and had even mastered the rudiments of carnatic music even as he was entering his teens. He has to his credit unique compositions in all Indian languages, including Tamil. He was also the recipient of all Padma awards instituted by the Govt. of India.
He also excelled in authoring in various known genres of carnatic music, be it the varnam, the krithi or the thillana. He was open to all kinds of music and never turned his face away from the tinsel world too. He had sung these songs from films, for instance, that had won him immense fame. They were Thanga Radham Vandhadhu (Kalaikovil), Oru Naal Poduma (Thiruvilayadal) and Chinna Kannan Azhaikiraan (Kavikuyil).
He had also acted in a few films and primarily donned the role of Naaradha. He belonged to the Thyagaraja lineage and belonged to the 5th generation.
He was also was a person who was deeply concerned about voice culture and he owed this to his familiarity with Hindustani music. He could play on the violin, the mridangam and the khanjira with equal confidence but chose to devote his time to vocal music. He had also maintained the condition of his voice till this age unlike many others who have faced voice-problems with ageing.
In all his interviews he had given to TV channels and the print media, he has always recounted the role of his parents, especially that of his father and then of his guru in shaping his musical career.
He was accessible to everyone and endeared himself even to the unlettered.
May his soul rest peacefully within the folds of music conveying forever its blessing to the whole musical fraternity, thus enabling them to carry on their duty to music with resolve and conviction!

About
Sabhash
- Everything about classical music, dance, drama and a platform for inclusive entertainment
Sabhash.com is the one-stop destination for the latest news and information on the performing arts of India - classical music and dance, theatre, bhajans, discourses, folk performances, and other lesser known art forms. Institutions that revolve around the performing arts have exploded in numbers, and thanks to the Internet which has made information easily accessible, the number of rasikas has grown too. Corporate patronage has played a big part in increasing the world-wide reach of the Indian arts. Sabhash wishes to be a platform for inclusive growth giving an equal opportunity and recognition to not only the main performer but also the artistes who accompany them on stage, and the people who work backstage and play the role of unsung heroes.