Classical Flautist Professionals
Sikkil Mala Chandrasekhar
Born:
Aug , 23 1963
Sikkil Mala Chandrasekhar was born in a reputed musical family, she started learning flute at the age of five from her gurus Padmasree Sangeetha Kalanidhi Smt Sikkil Neela (Mother) and Smt. Sikkil Kunjumani (Aunt). Learning was
Master Visveshwar
Born:
Aug , 02 1996
Master Visveshwar is 15 years old and is learning flute for the last 8 years, currently studying class XI in Modern Senior Secondary School, Nanganallur, Chennai. Simultaneously he is performing concerts, for the last 2 years he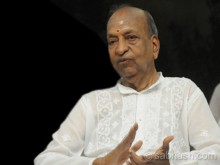 Dr. N. Ramani
Dr N. Ramani was born in Tiruvarur in Tamil Nadu born into a musical family. Ramani's grandfather, Sri Aazhiyur Narayanaswami Iyer, was his first guru and was a well known flute artist and singer himself. Ramani's

About
Sabhash
- Everything about classical music, dance, drama and a platform for inclusive entertainment
Sabhash.com is the one-stop destination for the latest news and information on the performing arts of India - classical music and dance, theatre, bhajans, discourses, folk performances, and other lesser known art forms. Institutions that revolve around the performing arts have exploded in numbers, and thanks to the Internet which has made information easily accessible, the number of rasikas has grown too. Corporate patronage has played a big part in increasing the world-wide reach of the Indian arts. Sabhash wishes to be a platform for inclusive growth giving an equal opportunity and recognition to not only the main performer but also the artistes who accompany them on stage, and the people who work backstage and play the role of unsung heroes.