Ada Kadavule - Kodai Nataka Vizha Day 1
28 April, 2014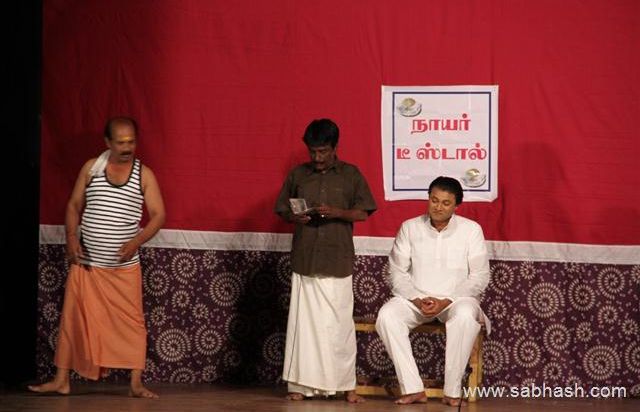 - Sukanya Kumar
The opening drama "Ada Kadavule" by SathyaSai Creations had a good story line, well- knit scenes, pertinent dialogue, effective stage props and setting, good acting by not only the main players but one and all, healthy relevant humour, impressive ending, in short the drama gave a good head start to the impending 14 days of Tamil theatre.
Arunachalam, the protagonist is a dark dimwit with below average IQ, below average looks and protruding teeth feels unloved and unwanted and wants to end his life. He questions God for creating him like this and God appears and through flash back scenes shows the cause and effect of his existence. His birth stopped his father from divorcing his childless mother, his job though of a peon supported his widowed mother and younger mother from starvation. He is traded for financial support of his brother's engineering education by his scheming sibling and mother who has scant regard for him. His marriage to his uncle's daughter, already pregnant from a clandestine affair with an undeserving crook and criminal saves her from disgrace and depraved life. He is a loving foster father. By pointing out the corrupt practice of his boss he earns his anger and is wrongfully punished and loses his job but in the process he saves his boss's family from the shame of the scandal and ensuing suicide.
As God shows him these scenes he realizes the purpose of his life. God tells him he has only seven more days to live and the people who have put him down will realize his worth and treat him with due love and respect. Why then should I die after seven days if I can get what I aspired for, he asks God. God grants him a boon. If in the course of seven days he is able to identify God who will manifest in some human form, he will be excused from the impending death.
His mother and brother have a change of heart when the contractor (who is otherwise corrupt) excuses the brother for secretly marrying his daughter, as he says "My daughter is going into a good family of Arunachalam,who is a good human being."
Arunachalam's wife who has been treating him like dirt reads about the gang war in which her lover is killed. She asks for forgiveness and promises to live a new life from the 7th day of the month which is his destined doomsday.
He runs from person to person trying to identify God. He meets a blind person whom he saves from a fatal accident. The blind person thanks him and says like God he has saved his life. Coming back home he sees his photo and asks whether that is God. The message being every human being filled with kindness is God personified. Do not seek God outside when he is within you.
Excellent acting and direction by Mapillai Ganesh has given the drama the needed structure and grip. The actor who played God and many others in important but smaller roles did full justice to the play. Though there was scope for overacting all of them exercised restraint, bearing witness to years of stage experience.
The full house audience stood up and clapped profusely and many rushed backstage to congratulate the script writer EzhichoorAravindan and the director Mapillai Ganesh.

About
Sabhash
- Everything about classical music, dance, drama and a platform for inclusive entertainment
Sabhash.com is the one-stop destination for the latest news and information on the performing arts of India - classical music and dance, theatre, bhajans, discourses, folk performances, and other lesser known art forms. Institutions that revolve around the performing arts have exploded in numbers, and thanks to the Internet which has made information easily accessible, the number of rasikas has grown too. Corporate patronage has played a big part in increasing the world-wide reach of the Indian arts. Sabhash wishes to be a platform for inclusive growth giving an equal opportunity and recognition to not only the main performer but also the artistes who accompany them on stage, and the people who work backstage and play the role of unsung heroes.