Kodai Nataka Vizha 2014 - Inauguration
28 April, 2014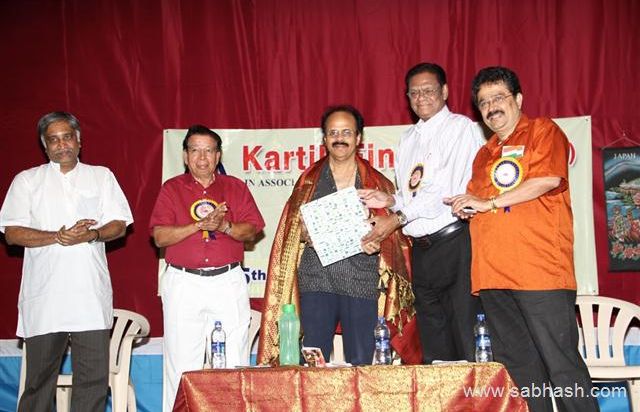 - Sukanya Kumar
All is well that begins well! The 25thKodai Nataka Vizha hosted by Kartik Fine Arts (KFA) in association with Nalli was inaugurated at the Narada Gana Sabha Main hall on April 22. The inaugural function began sharp at 6 pm as announced and the first drama started at 7 pm.
Nalli Kuppuswami Chettiar could not be present due to urgent commitment. Other dignitaries Crazy Mohan, S V Sekar, L Sabaretnam, Chairman KFA, A V S Raja, President KFA, R Sekar, Secretary, KFA lighted the ceremonial Kuthuvilakku.
In the words of A V S Raja, the drama series, though associated with hot summer was a cool event in a cool venue. He waxed eloquent listing the multifaceted skills of Crazy Mohan, the Chief Guest of the evening, as a dramatist, writer, painter and poet. L Sabaretnam recalled younger days when he was an avid fan of Therukoothu which would go on from night 9 pm to 6 am the next morning. Today with a busy lifestyle, the patience level has gone down hence dramas are short and sweet not exceeding two hours. He opined that cinemas evolved from drama and many famous actors were from the stage. Dramas he felt should have inbuilt humour.
Crazy Mohan addressed the audience and as expected his speech was laced with interesting humour. He praised KFA for the encouragement they provided to drama troupes year after year. Many veterans have been groomed by this sabha. Even today drama as a fine art draws good crowd. He hinted that Crazy Creations troupe would stage a new play "Google Gatodkajan" in June this year.
S V Sekar remembered KartikRajagopal, the brain behind the KodaiNatakaVizha and the dedication of the series to that dynamic individual was very fitting, as all drama troupes owe their success to him and his fair minded criticism. "He would be the first one to wish me on my birthday."
The support and services of NaradaGanaSabha was acknowledged with gratitude.
There were many luminaries off stage, R Krishnaswamy, President Federation of Sabhas. V S Raghavan, Kathadi Ramamurthy and many others from theatre.

About
Sabhash
- Everything about classical music, dance, drama and a platform for inclusive entertainment
Sabhash.com is the one-stop destination for the latest news and information on the performing arts of India - classical music and dance, theatre, bhajans, discourses, folk performances, and other lesser known art forms. Institutions that revolve around the performing arts have exploded in numbers, and thanks to the Internet which has made information easily accessible, the number of rasikas has grown too. Corporate patronage has played a big part in increasing the world-wide reach of the Indian arts. Sabhash wishes to be a platform for inclusive growth giving an equal opportunity and recognition to not only the main performer but also the artistes who accompany them on stage, and the people who work backstage and play the role of unsung heroes.