Mudhra's Drama Festival - Ishwaryam
17 June, 2014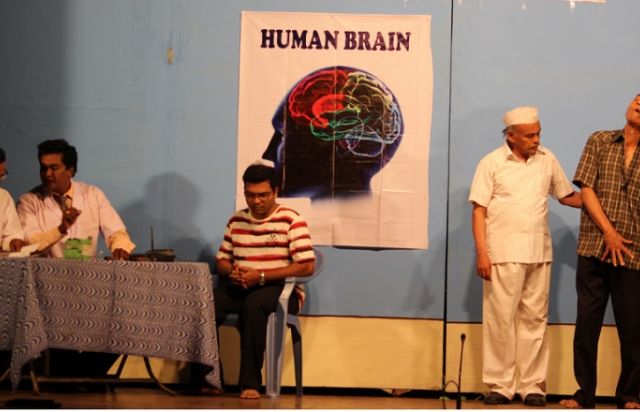 Mudhra, one of the front-ranking Sabhas that promotes Music and Drama had organized a Drama Festival from 8th June to 13th of June, 2014, at its usual venue, Infosys Hall, T'Nagar. Sri A Natarajan Former Director, Chennai Doordharshan inaugurated and presided over this festival. Sri Mouli, a great veteran in the Tamil Drama field, was the Chief Guest and presented the Nataka Mudhra Award to Sri A R Srinivasan (ARS), for his outstanding contribution to Stage Dramas, Tele-serials and Cinema. The Best Drama Award 2013 was also presented to Stage Friends' Thanneer Thanneer by Komal Swaminathan. This selection was made by the audience by means of a poll conducted last year. The audience poll was held this year also.
6 Dramas were staged: Ada Kadavule (Ezichur Ravindran), Appa Appappa (S L Nanu), Enna Kavi Padinalum (P Muthukumaran), Siva Sambo (Theatre of Maham), Andha Nal Gnyabhagam (S Gowri Shankar) and Ishwaryam (Josier Cheena)
A few words about the last in the lot – Ishwaryam (a production by Ravikumar, music score by Bala and Bala)
Heartfelt appreciation should go to Josier Cheena, for "living" the role of the allegedly brain-dead character of Appa (Ranganathan). With his jaw and mouth drawn towards the left side, his left hand held in an odd position almost clinging to his body, he assumed a perennial skewed-body-position throughout. It was that of a person medically seriously affected by the trauma of a plane crash (he was one of the few survivors). It was believed that Jagannathan's mortal remains were lost in the mass cremation that was held after the crash. He truly "comes-alive" with his performance. And to boot, he does not utter a single dialogue directly. He has lost his power of speech, courtesy, this deadly accident. One was reminded of some other true performers - actor Sivakumar in the film Marupakkam (K S Sethumadhavan) and that irreplaceable Om Puri in Aakrosh (Govind Nihalani).
Then you have the customary daughter-in-law (Ranjani–by Saidai Jayanathi) her husband Sriram (Saravanan). Sriram, the son of Ranganathan, is caught between Scylla (his wife) and Charybdis (his dad) and the loving/loved grand-child (Saravana Kumar as Deepika). All these characters add to the development of the story. Everything ultimately centres round the mental-health of Appa. He is taken to the Mental Hospital at Kilpauk and even admitted as an in-patient. And what the doctors Dr. Madan (Ravikumar) and Dr. Govindhan (Janardhanan) have to say? Is an expert doctor from abroad asked to intervene and decide? To what extent do medical practices, put abundantly to use these days, depend on technology? How successful are they? How suitable are they in this case? Watch the play at its next screening to know more…………..
The play is slowly projected as a one that acts as a protagonist for preserving the environment. Links are established between the absence of water-charging (with concrete structures all around you) that has led to the drying up of natural water resources and how one has to resort to "buying" of can water for drinking, leaving the present generation in a quandary. The older generation had done its job. But………
While the intentions are of a noble nature, the delivery left much to be desired. Dialogue-slips occurred here, there….well everywhere. The audibility was another issue where some actors' utterances were never heard and one had to make do with a lot of surmises. The background music had fine raga selections and the beginning number had, Easane Indha Ezhaikiranga (by Mrs. Sowmya?). But the music was of such decibel levels that it tended to drown the dialogue(s), at many places. The rule ought to be this: Background music should be a soothing enhancer; certainly not an obstruction.
And when the curtains came down, there was an ovation. The play had in the final analysis, served its purpose. The applause must also have been for the "brilliant near-stationary performance" of Josier Seena! Yes! He had carried it on his "narrow" shoulders!
aarvalan(aarvalan@yahoo.com)
For more photos :http://www.sabhash.com/theatre/events/7684/mudhra-drama-festival.html

About
Sabhash
- Everything about classical music, dance, drama and a platform for inclusive entertainment
Sabhash.com is the one-stop destination for the latest news and information on the performing arts of India - classical music and dance, theatre, bhajans, discourses, folk performances, and other lesser known art forms. Institutions that revolve around the performing arts have exploded in numbers, and thanks to the Internet which has made information easily accessible, the number of rasikas has grown too. Corporate patronage has played a big part in increasing the world-wide reach of the Indian arts. Sabhash wishes to be a platform for inclusive growth giving an equal opportunity and recognition to not only the main performer but also the artistes who accompany them on stage, and the people who work backstage and play the role of unsung heroes.