Shraddha's Bharathi staged on Children's Day
20 November, 2014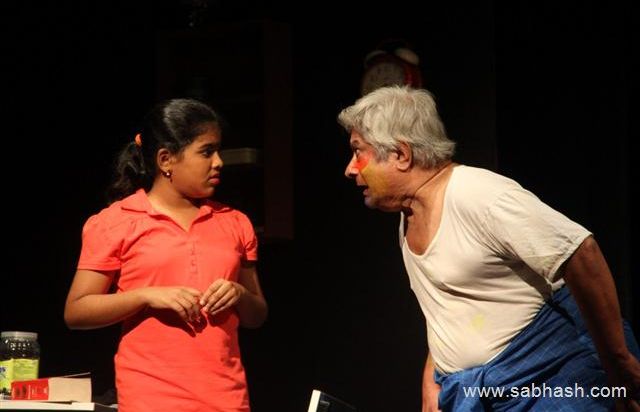 Shraddha's Bharathi staged on Children's Day served to remember the birthday of Pandit Jawaharlal Nehru in a fitting way. It traced the travails of a young girl Bharathi, whose parents belonged to the working group. They are rather too busy with their schedules that they even forget to get a doll that her girl had requested for. They are forced to reach home rather late when the child has already gone to bed. Is she (the child, Bharathi) pretending to be asleep intentionally oblivious to the sound of the calling bell? Is she making her protest felt in this manner for that is the only way she can express it?
Earlier she is buffeted about like a pebble on a seashore and visits many worlds. The inhabitants of each one of these worlds are sympathetic towards her and are serious to find a solution to ward off her loneliness. All this seriousness is conveyed in an intelligible manner that is easy and acceptable to mind of the child's intellect.
At first she faces the monarch, his deputy and advisor, the comical mickey-mouse, a buffoon, a dancing lady, a climber and many such characters. Each one of these characters who stand metaphorically for the many faces in society, suggest and want to embrace Bharathi to their fold. Can they interpret and "comprehend" the reasons why she has been left alone? Or do they too live in their mesh of routines and are thinking of perfunctory answer(s) to the question(s) faced by this darling child and thus express indirectly their limitations and their inability to come to terms with the real issue? A case in point is the suggestion of the monarch. Coming to know that the parents are in search of money that has caused this girl to be a forlorn child, the monarch suggests that money be stacked in granaries for easy picking. He soon realizes that this may not solve problems but would only raise more issues and concerns.
Then Bharathi finally goes to yet another world where she meets two fairies that are ready to provide her with a new pair of wings, giving her the "gift" to fly. Alas! All that is short-lived happiness for this poor child that has to return to lead her mundane life and is doomed to accept her fate. The play thus, in no uncertain terms, a sober statement/appeal to all parents to find a way to show genuine care to the child, to enjoy her pranks in the same manner as they would enjoy her achievements, to be with the child and make it known to the child about this act of theirs and above all understand the needs of the child by approaching this with a childlike simplicity.
The Moolakadhai in Drama form, was by Vijay Tendulkar, who is know for his socially critical stage plays. (Remember Kamala!) It has come into the hands of Yadartha K Penneswaran, editor of Vadakku Vasal, a Tamil Magazine that had substance, who has adapted it in an endearing manner that would appeal to children right away. Shraddha has come forward to stage this play, at Narada Gana Sabha, and one could listen to comments from the audience that were highly appreciative of the newness in approach and performances that had sincerity as it main plank. Produced by Shivaji Chaturvedi (co-produced by TDS, T D Sundararajan) and directed by G Krishnamurthy, the drama had quiet music by Ramesh Vinayagam (his first drama "appearance"). This venture is presentation made jointly by Kartik Fine Arts, Brahma Gana Sabha, Narada Gana Sabha, Sri Parthasarathy Swami Sabha, Thyaga Brahma Gana Sabha and Abbas Culturals. While all those on stage gave their best without at any point of time trying to overdo their emotions, child Mahima, who played Bharathi exhibited childlike qualities without in any way being precocious.
aarvalan
(aarvalan@yahoo.com)
For more photos : http://www.sabhash.com/theatre/events/7920/kartik-fine-arts.html

About
Sabhash
- Everything about classical music, dance, drama and a platform for inclusive entertainment
Sabhash.com is the one-stop destination for the latest news and information on the performing arts of India - classical music and dance, theatre, bhajans, discourses, folk performances, and other lesser known art forms. Institutions that revolve around the performing arts have exploded in numbers, and thanks to the Internet which has made information easily accessible, the number of rasikas has grown too. Corporate patronage has played a big part in increasing the world-wide reach of the Indian arts. Sabhash wishes to be a platform for inclusive growth giving an equal opportunity and recognition to not only the main performer but also the artistes who accompany them on stage, and the people who work backstage and play the role of unsung heroes.