Tughlaq - misunderstood and hence maligned?
01 July, 2013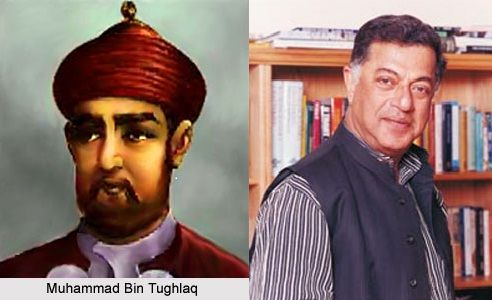 Tughlaq's rule is often talked about in derogatory terms. People repeatedly find fault with his capital-shifting and name it as the most futile of exercises that history has ever witnessed. God knows how many kings have indulged in such quixotic royal gestures and has history taken pains to record all of these? That as it may be, the Drama "Tughlaq", by The Madras Players staged at Museum Theatre, Chennai, written by the redoubtable Girish Karnad, represented artfully the dilemmas faced by this Emperor. His plots, his preventive and deterrent actions, his flop-shows, his irrational decisions and how he became desperate in the end. All of these unfolded and it was order and disorder. Two vivid examples. Suddenly one bright morning Tughlaq makes praying compulsory, drawing immense praise from devout Muslims, only to ban it once and for all after a few days, for personal reasons. Next, he goes even to the extent of imprisoning his own step-mother and almost orders her killing too. A complex play dealt with in a complex manner! And the play had its multi-layers too.
Yohan Chako as Tughlaq, lived through those troubled times that reflected his differing mental states. Agreed, ultimately he becomes a scheming character. He, however managed to give the right emotions, without overdoing it. He displayed himself to be a man bristling with feelings - he has cracked an unsolvable problem in the game of chess and rejoices ; but that is short-lived as another expert picks holes in the solution put forth. He expresses emotions and sentiments that drive him to activity all the time. Those gestures of the hand and eye, were to be seen to be believed. And the crescendo, the last scene, was silence. In spite of this ("silence") at the end, one could sense that Tughlaq longs for more power and authority (more and more and more….), but is even more confused about its dispensation. He has been the author of violence, but how will all this bloodshed end. Quo Vadis? You fool! Prior to this particular scene characters were killed - right, left and centre at the behest of the Muhammed.
Tehzeeb Katari, as the Emperor's step-mother is puzzled by her son's actions. She too however gets into the act of killing, but she does so "with a purpose." What lovely accent she has and the sweetest of voices, that was on a par with that of P C Ramakrishna, who played the historian Badani, with grace and great demeanour. But PC's voice has a distinguishing grandness. You agree? By the way is she, Katari, a singer by any chance? Arun Balachandran as Ratan Singh does a bit of an expose' of the "Tughlaq-Misdeeds" and even masterminds a plan to assassinate the Emperor during his prayers. Aziz, played by Roshan Mathew with Azam (Akshay Anand) lent a bit of humour, but never in a misplaced manner. Arjun Chidambaram was assigned small roles - "announcer, guard and door keeper" - which he did without a flaw. The rest of the cast were not lagging behind in their aesthetic sensibility.
Directed by Vinod Anand, the play did not "suffer" from clichéd directorial touches. Instead the director wanted the play to evolve. Probably the credit should go the playwright Girish Karnad as well. Adequate emphasis was laid on the language(s) employed by the different characters and plot junctures and subdivisions fitted perfectly. But wait! Those "live-murder" scenes - were they picked up directly from P C Sorcar's magic shows or from any crazy circus? Misfit to the core and incongruous, to say the least. Set designer Victor Paulraj, by his work of elegance, at every moment, reminded Thota Tharani. For both, simplicity seemed to be the watchword.
In the end it was an imaginative reconstruction (or representation) of history with a theme that was lofty and grand. The audience reacted by remaining in a state of willing suspension of (dis)belief. What interpretation, they must have told themselves! The play had a smooth run though it began a bit hesitantly. But on the whole did not have any drastic lapses of time or incredible shift to distant places.
Bharatha, the father of Indian Dramaturgy, in his Sastra has stated that " …..the general aim of all drama is to provide entertainment to people at large weighed down by their trials and tribulations in life" Tughlaq did and it made us realize that quality is sui generis to art (read drama). The team had won. One perforce started to see Tughlaq with a lot of sympathy or pity or both, as one walked out.
aarvalan(aarvalan56@gmail.com)

About
Sabhash
- Everything about classical music, dance, drama and a platform for inclusive entertainment
Sabhash.com is the one-stop destination for the latest news and information on the performing arts of India - classical music and dance, theatre, bhajans, discourses, folk performances, and other lesser known art forms. Institutions that revolve around the performing arts have exploded in numbers, and thanks to the Internet which has made information easily accessible, the number of rasikas has grown too. Corporate patronage has played a big part in increasing the world-wide reach of the Indian arts. Sabhash wishes to be a platform for inclusive growth giving an equal opportunity and recognition to not only the main performer but also the artistes who accompany them on stage, and the people who work backstage and play the role of unsung heroes.