Theatre with a new perspective
03 December, 2013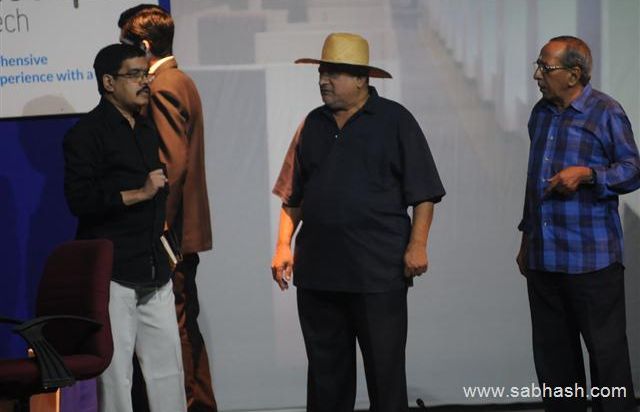 Shraddha presented 3 dramas sequentially on the same day - Aazhwaar, Silicon Vaasal and Ezuththukkaarar.
A word about Shraddha. Sarvashrii Shivaji Chaturvedhi, T D Sunderrajan and Smt. Prema Sadasivam had made their efforts to "find and form" Shraddha 3 years back. This set-up had come forward to stage these short plays mentioned, written by Era Murugan, known popularly on face book as Eramurugan Ramasami.
Aazhwaar
Aazhwaar the play put to use the conveniences of modern technology and was directed by G Krishnamurthy. T D Sunderrajan shone exceptionally well as the Vaishnavite Brahmin, with a respectable tuft on his head, a simple dhothi around his waist and thiruman on his forehead. He seemed to be carrying the play on his palm. He seeks a non-existing person and mistakes another (Adaikalaraj) for the personality whom he is looking for. Aazhwaar starts his conversation with him. Adaikalaraj gets confused looking at the orientation and behavior of Aazhwaar but on Aazhwaar's compulsion agrees to visit his house. One could see the movement of the roads, the streets as they get along and make their short journey. All this was happening on the stage. They pass through a flour mill, a saloon, few cinema posters and a set of houses that are nearby and slowly we/they reach Aazhwaar's house which is located beyond two of these streets.
On reaching Aazhwaars house, Adaikalaraj gets to know the existence of Vaidehi, Aazhwaar's daughter, who is in the poorest of poor states and ekes out an existence by selling appalams and vadams. He further understands from Vaidehi that Aazhwaar is an absent-minded professor and how he brings Tom, Dick and even Harry to their house and asks for money in order to gratify and offer his prayers to a Hanuman that is seated (veetrirukkum) in their house. Adaikalaraj then asks Vaidehi to give a regular supply of appalams and vadams to his place of work and also gives some money to Aazhwaar to help him complete the ceremonies for his pet Hanuman.
TDS (Aazhwaar), Nelson Ilango and Shalini Vijayakumar did their roles in a competent manner. The use of modern technology caught one's attention and won encomiums for its effective usage.
Silicon Vaasal
Silicon Vaasal - the stage setting was grand and attractive. The story revolves around youngster(s) who are employed in a software company located on the 4th floor of a building with nature surrounding them, and came under the direction of TDS. The youngsters always seem to be concerned about their work-load, their endless labour-routines and their targets. All of this was presented in a graphic manner.
In addition to all this they have to face nagging wives (and that is the domestic atmosphere for you) and their project manager (and that typifies their office) who is heartless. They are caught between the proverbial Scylla and Charybdis. The primary character is one named Solaiappan (Suraj). At the office the deadlines are nearing, and Solaiappan is unable to render the deliverables on time and for that reason it may be quite possible that he may have to lose his job. And somehow as Solai gets his job done there is the risk of his entire work being lost on account of some technological snag. When he wonders whether it would be life or its unthinkable alternative, death, his boss showers praise on him and announces that he is being sent on a new job to..…believe me, London.
Suraj and Girish performed with certain ease as the context in which they function must have been familiar to them. Today's youngsters earn bags and bags of money. They lack certain basic mortal needs. They are never hungry for food at all. They are afflicted by sleeplessness. They never "live". Lo and behold! What then is the purpose of their lives! For them hunger and peaceful sleep remain a faraway dream forever!
Ezuththukkaarar
Ezuththukkaarar takes a look at the life of Nandini Paranan. They have been led into a deception. "Money can fetch anything". Nandini gathers information from her own colony and ventures to make out letters and engages one person to write all of these. And hence, Ezuththukkaarar.
Now this Ezuththukkaarar, what should he do? What is his blue-book? What should he "do not"? This all takes a new form, a technique, almost. His reporting time would be 9 a.m. and he should leave at 5 p.m. Under all circumstances, he should restrict himself to his work-station. Nowhere else is he allowed to stir out. At no cost should he engage himself in any conversation with anyone else. He should not spill his food anywhere around. And so on and so forth. These rules and regulations….. and many more…..
On one occasion this Ezuththukkaarar gets into the act of story-telling. And that, to Nandini's son. As the story is about to come to a close, he suffers a heart attack. The son is drawn away from him by Nandini without offering any first aid to the seriously affected person, Ezuththukkaarar. That then becomes the end of Ezuththukkaarar's life itself. We are later told that this Ezuththukkaarar is none other than the father-in-law of Nandini. Now they begin a search for a "new" Ezuththukkaarar. Directed by G Krishnamurthy, this had stunning performances from Kalanilayam Chandru as Ezuththukkaarar and Nandini's role as the heartless daughter-in-law was done with fitting firmness, by Kavitha.
Giridharan's background score, Chota Ravi's fine lighting arrangements and Perambur Kumar's make-up methods enhanced the play-value.
As these plays shone and were bold attempts, there was something lacking in them, when looked at more closely. There was technology that was rightly used and all 3 plays had good storylines. The plays could have been explained further, one thought. It was true that one got the message that these 3 plays represent "yesterday, today and tomorrow". But still why does Aaazhwaar talk like a chatter-box? One also kept wondering why the team leader, in Silicon Vaasal, doesn't do any work as such, but is bent on extracting the maximum out of a single worker. Is a person like Ezuththukkaarar necessary in today's society? These were some of the questions these plays raised and probably left unanswered.
aarvalan (aarvalan@yahoo.com)
For more photos : http://www.sabhash.com/theatre/events/5184/kartik-fine-arts.html

About
Sabhash
- Everything about classical music, dance, drama and a platform for inclusive entertainment
Sabhash.com is the one-stop destination for the latest news and information on the performing arts of India - classical music and dance, theatre, bhajans, discourses, folk performances, and other lesser known art forms. Institutions that revolve around the performing arts have exploded in numbers, and thanks to the Internet which has made information easily accessible, the number of rasikas has grown too. Corporate patronage has played a big part in increasing the world-wide reach of the Indian arts. Sabhash wishes to be a platform for inclusive growth giving an equal opportunity and recognition to not only the main performer but also the artistes who accompany them on stage, and the people who work backstage and play the role of unsung heroes.